"In the Declaration all men are created equal:" Abraham Lincoln in Illinois, 1830 to 1860 is the first film production in the Witnessing History Education Foundation, Inc's PAGEANT OF AMERICA series. At ninety minutes in length, it is perfectly gorgeous. It covers Lincoln's life from 1830 to 1860, beginning with his arrival at the log village of New Salem, Illinois, appearing, in his words, "like a piece of floating driftwood," and ends with his election to the presidency thirty years later. The production has two themes: one, that hard work and study (Lincoln is shown in the film laboring, repeatedly, to educate himself) is the path to achievement, and, two, that Lincoln's use of the Declaration of Independence, and its phrase "all men are created equal," to confront the expansion of slavery in the 1850's, made that foundational document a true American "creed," as its framers intended. It was ultimately used to free four million African-Americans from bondage, and must be understood as a "living" American creed today.
Most of the acted scenes in the film were made possible by the use of selected actors and actresses who each bear a striking resemblance to the character portrayed. Filming was accomplished in September 2018 in the Old State Capitol, Lincoln's Law Office, and the old U.S. Courtroom in Springfield, Illinois, and at Lincoln's New Salem State Park near Petersburg, Illinois. Filming also took place at those sites in February 2019 so that scenes with snow on the ground could be obtained. The footage is beautiful. Added to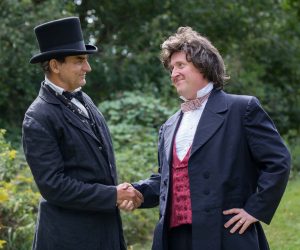 the footage are hundreds of period photographs of Lincoln, Stephen A. Douglas, and a host of others, along with images of period newspapers and documents in the handwriting of Lincoln. It took three months to edit the film and apply the mastered sound, sound effects, and the original score music to it. It took nearly fourteen months to produce Abraham Lincoln in Illinois.
Abraham Lincoln in Illinois premiered in August at various locations in Illinois and Kentucky. After Kentucky Educational Television and Illinois Public Television affiliates host premier broadcasts of the film in August, Abraham Lincoln in Illinois will then be broadcast on public network affiliates all across the Country and on cable television.
As with all WHEF films, standards-based teacher guides will be created for posting on the PBS Learning Media website, and other platforms, for teachers to use without any cost whatsoever.
We at WHEF hope you enjoy the Abraham Lincoln in Illinois production and stay tuned in 2020 for the next installment in the PAGEANT OF AMERICA series: "The shot heard round the world:" The Coming of the American Revolution, Colonial America to 1775. For more information, please visit www.WitnessingHistory.org.
Abraham Lincoln in Illinois has an approximate running time of 1 hour, 26 minutes.
PHOTOS:
Primary Actors: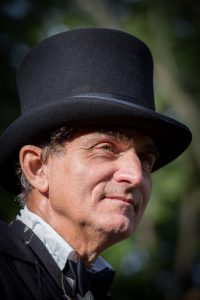 Joe Woodard
as Abraham Lincoln
Joe Woodard, from Hazel Dell, Illinois, portrays the beardless Lincoln of Illinois. Joe is a seasoned Lincoln presenter with previous experience portraying Abraham Lincoln in two live dramas and four video projects, including "Stepping Back in Time," an introductory video for Lincoln Log Cabin State Historic Site (Lerna, Illinois); "From Surveyor to President: Abraham Lincoln in Logan County," a project for the Logan County, Ill., Tourist Board; and "Prelude to the Presidency," a documentary produced by WILL-TV (Urbana, Illinois). Woodard is an active member of the Association of Lincoln Presenters.
Tim Connors
as Senator Stephen A. Douglas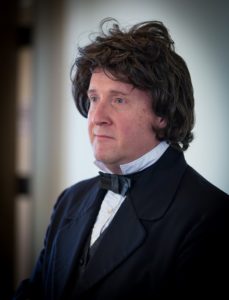 Tim Conners, a long-time Stephen Douglas performer, portrays the "Little Giant," Senator Stephen A. Douglas. Tim has performed Stephen Douglas for over nine years and has been honored to perform at all seven original debate sites in the great state of Illinois during the 2008 Sesquicentennial of the Lincoln Douglas Debates. Including Douglas, Tim has also performed as Benjamin Franklin, Alexander Hamilton, Franklin Delano Roosevelt and Thomas Jefferson. Tim is a proud member of Freeport School District 145 and has taught theatre and speech for 28 years where he has directed musical and theatrical productions and coached an award-winning speech team.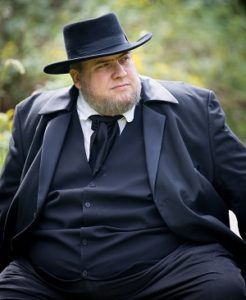 Jason Hosfield
Judge David Davis
Jason is a part-time minister who travels between small congregations preaching on a monthly basis. Although Jason has been involved in several productions with local community theater groups, this is his first film and his first experience with historical reenactment. You can visit Jason's blog at jasonbhosfieldblog.blogspot.com, which deals with spiritual, mythical, folkloric, literary, and ecological themes. Jason lives in Casey, Illinois with his 4-H leader wife Sara, his 13-year-old artist-and-musician daughter Lauren, and his 9-year-old sports-nut-and-Star-Wars-fan son, Ryan.
Ful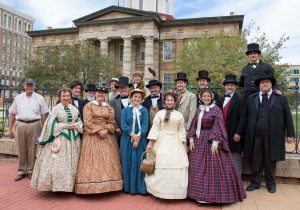 l Cast:
Director, Kent Masterson Brown, and WHEF's film production crew visited Springfield, Illinois, and over two days, filmed scenes with not only the three principal actors, but a host of wonderful people who served as extras, all dressed in early and mid-nineteenth century garments, all invited to the filming through the great help of Terry Jones, of Lincoln's New Salem State Park, and Troy Gilmore and Beth Staff of the State Historic Sites in Springfield Illinois.
The WHEF Crew
Kent Masterson Brown, Director
Witnessing History Education Foundation, Inc.
Lexington, KY
Chris Yelton, Editor
CY Post, LLC
Ft. Mitchell, KY
Clark Cranfill, Music Composer
Icecap Music Publishing Co., LLC
Lexington, KY
Jared Hamm, Cameraman
Jason Salehi, Cameraman
Hamm Media
Lexington, KY
Neil Rush, DMD, Grip
Witnessing History Education Foundation, Inc.
Lexington, KY
Neil Kesterson, Sound Designer
Nigel Tiller and Tyler Gipson, Sound Engineers
Dynamix Productions
Lexington, KY
The Executive Producers:
Jane Winegardner of Lexington, Kentucky and the National Christian Foundation, Tom Lewis of Paradise Valley, Arizona, and the T.W. Lewis Foundation, and Beverly Means Dubose, III of Atlanta, Georgia, and the Frances and Beverly Means DuBose, Jr. Foundation, were critical to the production of Abraham Lincoln in Illinois. Their significant grants made it all possible.
The mission of the Witnessing History Educational Foundation, Inc. ("WHEF") is to produce documentary films on American history and to disseminate them to as wide an audience as possible, and particularly to young people, many of whom are not being taught American history. It is the only organization of its kind in America.
WHEF is a fully qualified IRC §501(c)(3) tax-exempt foundation. All gifts are tax-deductible. Visit WHEF's website to listen to "Tales of American History by Kent Masterson Brown," and create your free membership to view full-length documentaries. Follow WHEF on Twitter and Facebook.
© 2019 Witnessing History Education Foundation, Inc. All rights reserved.